Drug & Alcohol Rehab in New Jersey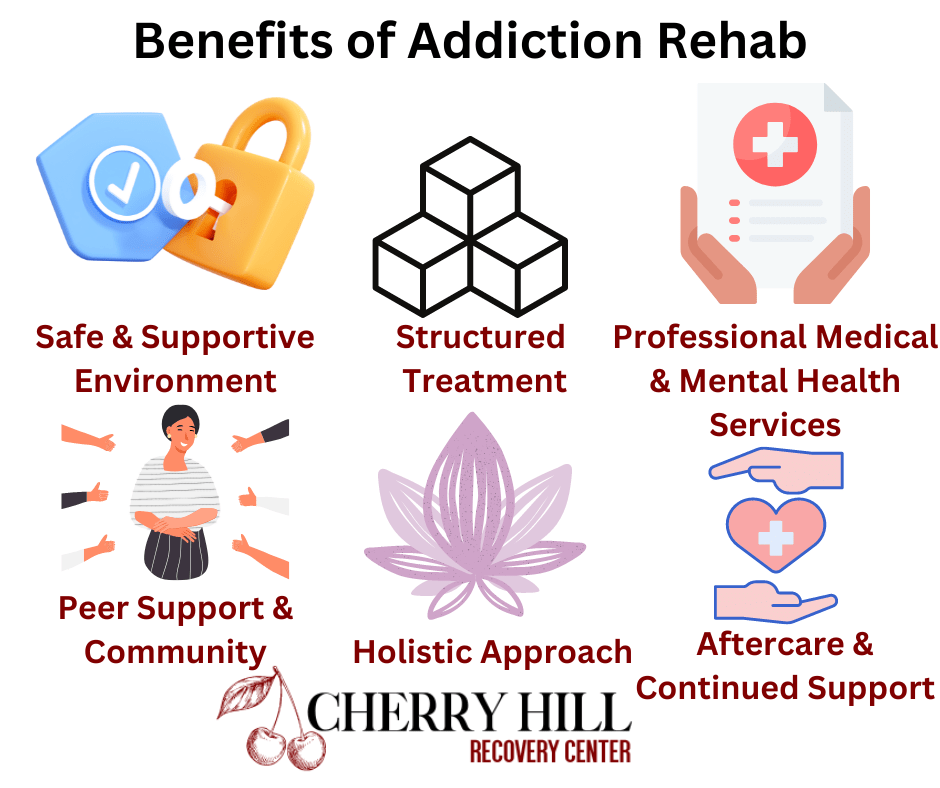 New Jersey Drug & Alcohol Rehab
At Cherry Hill Recovery Center, our primary focus is helping individuals in need of drug and alcohol rehab in New Jersey. We are committed to providing compassionate and effective care to those seeking help for addiction. Our experienced team understands the challenges individuals face when searching for the right treatment program. We work closely with each person, taking into consideration their unique circumstances, preferences, and needs. Our goal is to guide individuals towards reputable rehab facilities in New Jersey that align with their specific requirements. We prioritize providing valuable resources, support, and a safe environment where individuals can embark on their journey to recovery. If you or a loved one is in need of drug and alcohol rehab in New Jersey, we are here to help you find the support and treatment you deserve.
Benefits of Addiction Rehab in New Jersey
Going to addiction rehab offers numerous benefits that can positively impact individuals' lives and support their recovery journey. Here are six key benefits of attending addiction rehab:
Safe and Supportive Environment: Rehab provides a safe and structured environment where individuals can focus solely on their recovery. It offers a supportive community of professionals and peers who understand the challenges of addiction and provide encouragement and guidance throughout the process.

Professional Medical and Mental Health Support: Rehab facilities have dedicated medical and mental health professionals who specialize in addiction treatment. They provide comprehensive assessments, personalized treatment plans, and evidence-based therapies to address both the physical and psychological aspects of addiction.

Structured Treatment Programs: Rehab offers structured treatment programs tailored to individual needs. These programs typically include a combination of individual therapy, group therapy, educational sessions, holistic therapies, and relapse prevention strategies. The structured nature of rehab helps individuals develop coping skills, address underlying issues, and establish a solid foundation for lasting recovery.

Peer Support and Community: Rehab provides a unique opportunity to connect with peers who are going through similar challenges. Peer support groups and group therapy sessions foster a sense of community, understanding, and shared experiences, allowing individuals to gain support, encouragement, and accountability from others who can relate to their journey.

Holistic Approach: Many rehab centers take a holistic approach to treatment, addressing the physical, emotional, and spiritual aspects of addiction. This may include activities such as meditation, yoga, art therapy, or fitness programs that promote overall well-being and personal growth.

Aftercare and Continued Support: A significant benefit of rehab is the emphasis on aftercare and continued support. Rehab programs often provide resources and referrals for ongoing support, such as outpatient treatment, therapy, support groups, and alumni programs. This ensures individuals have the necessary tools and support network to maintain their recovery long after leaving the rehab facility.
It's important to note that the benefits of addiction rehab can vary depending on the individual and the specific treatment program. Choosing the right rehab facility that aligns with individual needs and preferences is crucial for maximizing the benefits of treatment.
Statistics on Rehab in New Jersey
Substance Use Disorder Prevalence: According to the Substance Abuse and Mental Health Services Administration (SAMHSA), in 2019, an estimated 9.3% of individuals aged 12 or older in New Jersey had a substance use disorder.

Opioid Epidemic: New Jersey has been significantly impacted by the opioid epidemic. In 2020, the state reported 3,046 opioid-related overdose deaths, highlighting the urgent need for addiction treatment and rehabilitation services.

Treatment Gap: The National Survey on Drug Use and Health (NSDUH) reported that in 2019, only 10.6% of individuals with a substance use disorder in New Jersey received treatment. This indicates a significant treatment gap that needs to be addressed.

Alcohol Abuse: Alcohol abuse is a prevalent issue in New Jersey. According to the New Jersey Department of Human Services, in 2019, alcohol was the primary substance of abuse for 41.8% of individuals admitted to substance use treatment programs.
New Jersey Rehab Hotlines
New Jersey Mental Health Helpline: 1-866-202-HELP (4357)

Offers immediate assistance and information about mental health services and resources in New Jersey. Available 24/7.

National Suicide Prevention Lifeline: 1-800-273-TALK (8255)

Provides free and confidential support for individuals in distress or at risk of suicide. Available 24/7.

NJ Hopeline: 1-855-654-6735

Offers free, confidential support, and intervention for individuals experiencing emotional distress or suicidal thoughts. Available 24/7.

Crisis Text Line: Text "NJ" to 741741

Provides free, 24/7 crisis support via text message for individuals in emotional distress or experiencing a mental health crisis.

Cherry Hill Recovery Center addiction support & referral hotline. Call 856-200-3127 any time.

Provides confidential information, support, and referrals for individuals and families facing mental health and substance abuse issues. Available 24/7.
Insurance Covering Rehab in New Jersey
Navigating the process of using insurance to access rehab services in New Jersey can seem daunting, but it doesn't have to be. If you're wondering how to get help and utilize your insurance for rehab, there are some key steps to follow or call Cherry Hill Recovery Center. Our experts can take the pain out of endless searching online for you, and pair you or your loved one with the best facility:
Understanding Your Insurance Coverage: Begin by reviewing your insurance policy or contacting your insurance provider to understand the specifics of your coverage. Identify what type of addiction treatment services are covered, such as inpatient rehab, outpatient programs, detoxification, or medication-assisted treatment.

Researching Providers: Look for rehab facilities and treatment centers in New Jersey or New York or Pennsylvania or Maryland that can accept your insurance plan. Every policy is different and might cover some facilities but not others.

Contacting the Treatment Center: Reach out to the rehab facilities you are interested in and ask if they accept your insurance plan. Provide them with your insurance information, and they can verify your coverage and guide you through the next steps.

Verification and Preauthorization: The treatment center will work with your insurance provider to verify your benefits and obtain preauthorization if necessary. This step ensures that the treatment you receive is covered by your insurance plan.

Coordinating Admissions: Once your insurance coverage is confirmed, the treatment center will guide you through the admissions process. They will help you with the necessary paperwork, provide information about the program, and answer any questions you may have.

Financial Responsibility: While insurance coverage can help offset the cost of rehab, it's important to understand your financial responsibility. This may include copayments, deductibles, or any out-of-pocket expenses. The treatment center's financial team can help you navigate these aspects and discuss payment options if needed.
When it comes to seeking help for addiction, people often search for information on how to use insurance for rehab, finding reputable treatment centers, verifying insurance coverage, and understanding financial obligations. By using these relevant keywords, individuals can find resources and guidance on utilizing their insurance to access rehab services in New Jersey. Remember, each insurance plan may have specific requirements and limitations, so it's crucial to communicate with both your insurance provider and the treatment center to ensure a smooth process.
Frequently Asked Questions (FAQS) About Rehab In New Jersey
Questions About Drug & Alcohol Rehab in New Jersey? Contact us now